About Walterboro
Colleton Museum and Farmers Market in Walterboro, SC is the hub of our event. Rides begin and end there. Breakfast and dinner are served there. Same with packet pickup, rider meetings, breakfast, after-ride snacks and evening activities and entertainment with free s'mores and free hot dogs and more.
Address: Colleton Museum and Farmers Market, 106 Neyle St., Walterboro, SC (map)
​EXIT 53 off of I-95 is the closest exit to get to the Farmer's Market and Festivelo.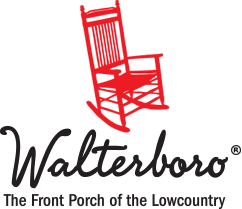 In addition to Festivelo's own planned celebrations, Walterboro has a lovely historic downtown area with a variety of restaurants and antique shops just a few blocks from the start of the ride.

An 800-acre wildlife sanctuary in Walterboro with hiking, biking and walking trials is nearby, also. Or you can visit nearby cities and attractions in the afternoons and evenings instead – Charleston, Beaufort, or Hilton Head, South Carolina, or Savannah, Georgia. Or – you may prefer to just stay in Walterboro and enjoy the Festivelo celebrations with your biking compatriots!